Here's How to Have Your Fastest
Weight Loss Week EVER, 

Safely

Losing 7 Pounds 

of Pure Fat

in

7 Days
Plus, Scientific PROOF on How to 

NEVER

Stop Losing Weight Even If You Goof Up
Hey there, it's Mike Whitfield and I want to personally congratulate you on paving the road to better health by investing in the doable Achievable Body Blueprint.
You are just a few moments away from getting started!  However, I have a very important message for you...
Because you have chosen to take action today, during the special pre-launch, you have a one-time opportunity to upgrade your order to include the 7-Day Aggressive Fat Loss plan that I have only previously shared with my private one-on-one clients at my facility in Dallas, GA.
I've collaborated with 3 of the top nutrition experts in the world and have put together the PERFECT 7-day plan to remove up to 7 pounds of fat in just 7 days (some have experienced even more... including my top client losing 11 pounds!
The 7-Day Aggressive System strategically works in combination with the Achievable Body Blueprint. You simply follow these 7 days as outlined, then jump into the Achievable Body Blueprint. You can use this 7-day plan at any time to lose as much fat as possible.
Here's how it works:


A study from the American Council on Exercise (ACE) proved that a special sequence of exercise for just 4 minutes (yes, 4 minutes!) will burn up to 360 calories. That's 6 chocolate chip cookies!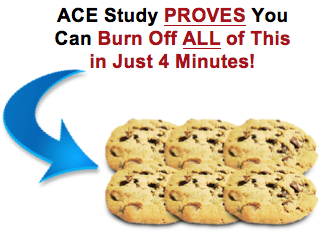 The best part? This groundbreaking exercise sequence requires ZERO equipment so you can do them in the comfort of your own home. It's simple - you just use a special combination of rest, full body movements and intensity.
With just ONE 4-minute sequence, you'll burn up to 360 calories. Now imagine "stacking" up to 4 of these bodyweight sequences and burning over 1,400 calories in just 16 minutes! That's over 8 slices of pizza!
That's what you call working "smarter" and not longer. You can do these anywhere, too!
I don't know about you, but sometimes I goof up. Even when you're mindful and following all the "rules" of any diet, you have those "Oops" days where you over-indulge. It's pretty frustrating. You lose 5 pounds, then another 2 pounds... and then just weeks later because of some kind of event, you gain 7. It could be a long weekend of too much food, an anniversary or even a vacation. 
You can probably agree with me that it's harder to lose weight after turning 30 as well, right?
The good news is with The Achievable Body, you'll have your doable diet dialed in. The only thing is...
1) What if you have a week, 2 weeks or even more where you "slip up"? (don't sweat it - we all do this including MYSELF!)
2) What if you "over-indulge" over the weekend? I think we all have eaten more than what we planned, right? It happens.
Now you can agree that NO diet alone, no matter how great it is, can't overcome genetics, a slow metabolism or even when you "slip up". Sure, there are diets that "claim" this, but you obviously know the truth. That's why you made a savvy choice with The Achievable Body. It's REAL. It's DOABLE. It's NOT however, a miracle program.
But we don't want that to discourage you. You CAN overcome bad genetics, a slow metabolism and even overcome those "oops moments". That's where these "Oops Circuits" come in. 

The magic is found inside our 7-Day exercise and diet combination that accelerates fat-burning by 450% over the next 7 days, helping you burn more fat every hour of every day for an entire week.
Plus, you'll keep it off by using our special "Oops" Exercise Guide that tells you exactly how to burn more belly fat than ever in just 4 minutes.
Your fat loss results then become practically automatic, which is incredible considering you're experiencing shocking results while enjoying your favorite foods.
 And TODAY, we're also giving you this FREE bonus...
All you need to do is click the "Add to My Order Now Please!" button you see below…And I'll upgrade your order to include the 7-Day Aggressive Fat Loss Guide, the follow-along videos, the Oops Circuits Exercise Guide and the 53 Smoothies and Milkshake recipes at our special pre-sale price: 
Your Discount Coupon Will Automatically Be Applied

No thanks. I realize this is my only opportunity to save time and get the fastest results possible at 88% off. I understand that after I decline this offer, this done-for-you Upgrade and Bonuses will never be made available to me again at any price, even if I wish to pay more. I will pass on this generous offer forever.